To receive a customized proposal for your group, please call our office at 800-876-8551 or fill out the online request form on the right.
Sun Valley Group Lodging
Give your group the experience of skiing a celebrity favorite and a piece of history. After traveling across the western United States in search of the perfect location for a ski resort, in 1936 founders of Sun Valley began building the first destination mountain resort to be constructed in the U.S. modeled after the ever so popular European ski destinations. With the combination of good snow fall, sunshine, and absence of wind Bald Mountain or "Baldy" was the ideal site and has often been referred to as one of the better ski mountains in the world. Today Sun Valley offers groups centralized lodging and a complete resort.

Featured Group Lodging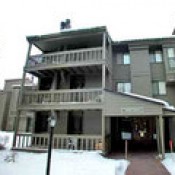 Cottonwood
Short Shuttle
The Cottonwood offers a great condominium option for groups who are looking for more than just a hotel room. Guests have access to a large outdoor hot tub. Most units are also equipped with fireplaces that make your stay in the mountains feel homey.
Details (new window)
Sun Valley Lodge
Short Shuttle
The lodge offers 148 rooms and is a complete hotel with extra amenities such as an ice skating rink, bowling alley, and concierge services. This property makes for a great group stay with everyone being centrally located in one builiding.
Details (new window)
Sun Valley Group Airfare
Most groups visiting Sun Valley fly into Boise and charter bus to the resort. However if your group is willing to spend a little more on their airfare costs you can fly directly into Sun Valley to make for an easy travel day.

Sun Valley Group Ground Transportation
Transportation to and from the airport is typically done by charter buses for groups flying into Boise. However individual shuttles can also be arranged for groups with different flight schedules.

Sun Valley Group Activities
Sun Valley Resort boasts a year round outdoor ice skating rink (a popular destination for champion skaters in the summer months), Nordic and Showshoe Center, nightly live music and movies in The Opera House. Enjoy the on-site shops, restaurants and bars or head into Ketchum for top ranked nightlife, après ski, shops, museums, art galleries, and post-skiing entertainment for everyone.

Request Sun Valley Group Quote