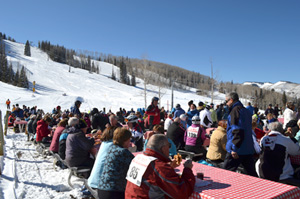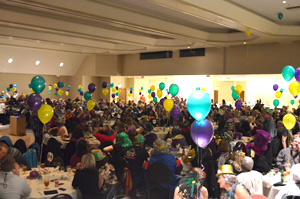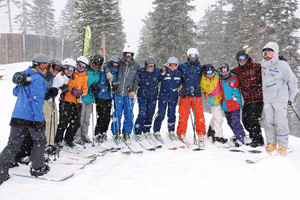 Groups of ten or more can often receive great benefits. Whether the group is for company incentive ski program, you belong to a ski club, the vacation is for family and friends, click on the below button. We will make it easy for you.
To receive a customized proposal for your group, please call our office at 800-876-8551 or fill out the online request form or simply email your requirements (or RFP) to groups@sportsamerica.com.
Group & Council Résumé
Sports America was established in 1975 as a group ski tour operator, providing charter bus packages to California College and high school students. In the late 1980's, Sports America migrated to the adult group ski industry. Today the company is one of the three largest adult ski group tour operators in the United States. Largest single ski trip in Sports America's history entailed 26 different clubs and 1,826 people to Park City, UT.
Sports America holds destination wholesale status with every major ski resort in the Western United States and Canada - over 30 resorts in total. Additionally, Wholesale airline reservations are made with all ski related carriers including American, Delta and United Airlines and Groups on Southwest and Frontier.
The average tenure of Sports America employees is 12.7 years. This length of employment ensures any and all trips managed by Sports America to be of the highest quality. For this reason Sports America has one of the most consistent track records of Ski Council clientele in the United States.
Crescent Ski Council Ski Week '03, '04, '05, '06, '07, '08, '09, '10, '11, '12, '13, '14, '15, '16, '17
Texas Ski Council '07, '09, '10, '11, '12, '13, '14, '15, '16, '17
New Jersey Ski Council '04, '05, '06, '07, '09, '10, '11, '12, '13, '14, '15
Far West Ski Association: '12, '13, '16, '17
All Cal Ski Week '06, '07, '08, '09, '10, '11, '12, '13, '15, '16, '17
Blue Ridge Ski Council '16, '17
ICWC '18
The mainstay of Sports America is our individual clubs that book with the company year in and year out. Our reputation is golden! In a given year Sports America will handle 100+ individual club trips, 12-15 corporate trips and 10-15 family/reunions. Ski clubs that have a long-standing relationship with Sports America include:
Austin Skiers with Texas Ski Council
Snowseekers with Chicago Metro Ski Council
Charlotte Ski Bees with Crescent Ski Council
Greensboro with Crescent Ski Council
Peninsula with Bay Area Council & FWSA
Century City with Los Angeles Council & FWSA
And recently with Gators, Jacksonville, Ft. Lauderdale, Naples and Space Coast in Florida