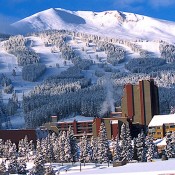 Beaver Run
Condos in Breckenridge, Colorado
620 Village Road
,
Breckenridge
CO
80424
Location to Slopes:
Ski-In/Ski-Out
Description:
Reviews:
Beaver Run is the ultimate resort in Breckenridge. It offers unsurpassed service for families, groups, or conferences. Over 500 rooms and condos are available with a variety of floor plans, varying from deluxe to luxury accommodations. Beaver Run provides everything you need for an amazing stay in Breckenridge.

Location
Beaver Run is a ski-in ski-out complex next to the Beaver Run Super Chair and Quicksilver 6. The complex is four blocks from Main Street, and the Town Trolley and ski shuttle stop at the property.

Accommodations
Beaver Run offers a wide range of sizes and extras when it comes to accommodations. Guests may choose between a hotel room, a Deluxe Studio, Colorado Suite, One Bedroom/One Bathroom Suite, One bedroom/One Bathroom Premium Suite, Two Bedroom/Two Bathroom Suite, or Two Bedroom/ Two Bathroom Premium Suite. These units can accommodate between one and ten guests. All of the units feature daily maid service, a phone, TV, coffeemaker, humidifier, and hairdryers. Depending on your choice of room, you may also have a full kitchen, spa tub, pull out sofa, private balcony, fireplace, and open bar. Washers and dryers, elevators, and covered parking are all available at the complex.

Kids and Families
Beaver Run isn't just for adults! The resort offers unlimited opportunities for kids to have fun and to give parents time for themselves. Beaver Run has Kids Day Off, for ages 5-12 from 9AM to 5 PM, with activities from Museum Visits to Gold Panning and Treasure Hunts. Similar to Kids Day Off is Kids Night Out, from 6 PM to 9 PM. Beaver Run provides Kinderhut, a licensed daycare and activity center, for children aged 6 weeks to 6 years old. Other opportunities for family fun include the miniature golf course and video arcade within the resort, the Alpine Super Slide, Amaze 'N Breckenridge, Ski School, hiking, horseback riding, mountain biking, ice skating, paddleboats, a recreation center, and lots more! Kids don't get bored at Beaver Run.

Amenities
Beaver Run has a tradition of providing the very best in comfort and relaxation to its guests, and they've gone beyond the call of duty when it comes to amenities. Guests at Beaver run have access to two indoor and two outdoor heated pools, eight hot tubs, a tennis court, children's play area, video arcade, mini golf, exercise room, sauna, massage therapist, spa services, retail stores, ski and snowboard shops, convenience store, full laundry and dry-cleaning services, two restaurants, a night club and lounge, in-room movies and a car rental service.

Beaver Run's guest service desk has all the information about Breckenridge that you need to find the perfect activity or restaurant for your outing. The desk sells ski area lift tickets, and will make arrangements for everything from parabolic skis to a full suspension mountain bike. The friendly hosts there can arrange a hot air balloon ride, dinner sleigh rides, or even river rafting tours. Beaver Run knows how to take care of you!

Beaver Run has four restaurants and stores on site for your convenience and pleasure. Spencer's Steaks and Spirits serves American cuisine in a friendly atmosphere, The Coppertop Café offers a quick and convenient breakfast or lunch, G.B. Watson's Deli features delicatessen and a mini grocery, Spencer's Lounge has a great atmosphere for quiet conversation, cocktails and unwinding, and Tiff's Night Club is the place to go for dancing, big screen televisions, games, daily drink specials, lunch, and après ski entertainment. As usual, Beaver Run has something for everyone!
Features & Amenities
Elevator
Indoor Hot Tub
Outdoor Hot Tub
Indoor Pool
Sauna
Outdoor Pool

Outdoor Pool
Gym/Fitness Center
Fireplace - not in hotel rooms or deluxe studios
Daily Maid Service
On-Site Bar
Restaurant
Free Parking

Private Shuttle
Concierge Services
24 Hour Front Desk
Ski Lockers - complimentary ski storage
Ski Rentals on-site
Pet Friendly* Restrictions may apply - Beaver Run Resort allows up to two dogs under 50 lbs (and over 1-year old). The fee is $40 for the first dog and an additional $20 for the second dog. Guest with pets will receive a dog biscuit, waste bag and collar tag at check-in. The resort

(Some Units)

Full Kitchen - larger units
Breckenridge Lodging
Ski-In/Ski-Out
Ski-in/Walk-out
Ski-in/Shuttle-out
Walking Distance
Short Shuttle
Car Recommended
More Breckenridge Links