Resort Information
Lodging Map
Photos
Banff and Lake Louise Ski Resort
Banff and Lake Louise, Alberta
Banff and Lake Louise Lodging Map for Hotels and Condos
Banff and Lake Louise Photos and Pics
Featured Banff and Lake Louise Lodging: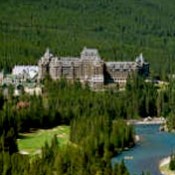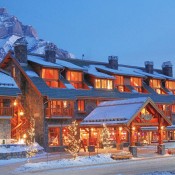 Banff Resort at a Glance
Banff's scenic grandeur and sheer size are awe-inspiring. With three separate ski resorts offering over 7,000 acres of skiing, there is more unbelievable skiing than a person could explore in weeks. And with the charming town's plentiful dining, shopping, and nightlife options, you are sure to return home smiling from a rare ski vacation experience.
The Mountains
There are 3 ski resorts that provide skiing for Banff, all of which lie in Banff National Park. Located 75 miles west of Calgary International Airport (YYC), Mount Norquay is the closest of the three mountains, and is the locals' favorite. This resort is definitely small with only 5 lifts and 25 runs- but the terrain here provides some super-steep, heart-pounding freefalls which will challenge any expert, as well as some gentler beginner runs. And, because this mountain lies in a deep valley, it is well sheltered from the weather by the surrounding summits.
Located 85 miles west of Calgary, Sunshine Village is the oldest of Canada's ski resorts and offers over 3,000 acres of varied, skiable terrain. It is also home to the world's fastest gondola, which has a capacity of 8 passengers. Located 110 miles west of Calgary, Lake Louise is Canada's largest and most beautiful ski area, and is also considered one of the most scenic resorts in the world. The wilderness here is uniquely inspirational, and will leave you catching your breath in awe at the seemingly infinite 4,200 acres of skiable terrain. It has a strategic trail layout that allows skiers of all abilities to explore the ski resort's four mountain faces together. It also boasts the largest Terrain Park in North America.
The Town of Banff
The town of Banff is 34 miles east of Lake Louise, 10 miles east of Sunshine Village, and 4 miles east of Mount Norquay. With an elevation of 4,537 feet, this quaint and charming town is the highest town in Canada. As you walk down its streets, you will see the spectacular setting for which it is famous: arrays of eclectic shops and boutiques, set in the foreground of a massively beautiful mountain. You will also find a world-renowned museum, world-class performance art, fabulous nightlife options, and the genuine relaxed friendliness of the Canadians in Banff.
Lodging: Condos and Hotels
There are many lodging options surrounding the town of Banff. Most are hotels. These include such accommodations as the Banff International and the Mount Royal, which are right in the heart of the town and its nightlife; and the Fairmont Banff Springs, which is a gorgeous, upscale, castle-like hotel just outside of the town.
Resort Maps
Banff and Lake Louise Video
A brief introduction to skiing and snowboarding at Banff and Lake Louise, Alberta
More Banff and Lake Louise Links
This map details the location of popular Banff and Lake Louise lodging options. Accommodations are numbered on the map, which when clicked will display a brief description of the property. The list of these lodges on the right side-bar will also display the property, it's rating, and re-size the map centering on that property. You may also click on "more information" which will take you to a page devoted to that specific property choice and ski package options. Here you will find the property amenities, lodging photos, a map of the property, and chairlift location. You may also display nearby restaurants, bars, and grocery stores by clicking the sidebar to the right of the Banff and Lake Louise map.
All lodging options are color coded- Blue, Green, Purple, and in some cases Red. Blue indicates a ski-in property. Please note that some of these are ski-in/ski-out, but can also be walk-out or shuttle-out. Green markers suggest the lodging is within walking distance of a Banff and Lake Louise chairlift. Purple tabs are typically a short shuttle ride from lift access. Lastly, Red indicates that a car is recommended.
The lodging classification of ski-in/ski-out or within walking distance varies amongst users, terrain and snow conditions. It is best to either zoom in on the lodging map to make your own determination or call our reservation office for more details regarding the ski access.
More Banff and Lake Louise Links
Banff and Lake Louise Links
Banff and Lake Louise Lodging
Short Shuttle
1
Fairmont Chateau Lake Louise
12
Banff Rocky Mt. Resort
Banff and Lake Louise Links