Resort Information
Lodging Map
Photos
Mt Bachelor Ski Resort
Mt Bachelor, Oregon
Mt Bachelor Lodging Map for Hotels and Condos
Mt Bachelor Photos and Pics
Featured Mt Bachelor Lodging: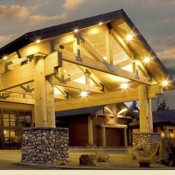 Mt. Bachelor Overview
In the heart of Central Oregon you'll find Mt. Bachelor, a spectacular extinct volcano rising out of the Deschutes National Forest. Crowds are minimal here, and the mountain is large. 3,200 acres of terrain encompass the entire volcano.
There are two popular lodging options in Mt. Bachelor: Sunriver and the town of Bend.
Bend, more a city than resort town, is the better option for those seeking lots of dining options and nightlife. Hotel accommodations are excellent, tucked away next to the rivers that flow through town.
Sunriver is a year round retreat, as popular in summer as winter. The Sun River Resort offers splendid hotel and condominium units nestled amongst the pines.
Mt. Bachelor is accessible via Portland, Oregon -- a great town to spend a day in on it's own, and just a few hours from Mt. Bachelor.
Resort Maps
Mt Bachelor Video
A brief introduction to skiing and snowboarding at Mt Bachelor, Oregon
More Mt Bachelor Links
This map details the location of popular Mt Bachelor lodging options. Accommodations are numbered on the map, which when clicked will display a brief description of the property. The list of these lodges on the right side-bar will also display the property, it's rating, and re-size the map centering on that property. You may also click on "more information" which will take you to a page devoted to that specific property choice and ski package options. Here you will find the property amenities, lodging photos, a map of the property, and chairlift location. You may also display nearby restaurants, bars, and grocery stores by clicking the sidebar to the right of the Mt Bachelor map.
All lodging options are color coded- Blue, Green, Purple, and in some cases Red. Blue indicates a ski-in property. Please note that some of these are ski-in/ski-out, but can also be walk-out or shuttle-out. Green markers suggest the lodging is within walking distance of a Mt Bachelor chairlift. Purple tabs are typically a short shuttle ride from lift access. Lastly, Red indicates that a car is recommended.
The lodging classification of ski-in/ski-out or within walking distance varies amongst users, terrain and snow conditions. It is best to either zoom in on the lodging map to make your own determination or call our reservation office for more details regarding the ski access.
More Mt Bachelor Links
Mt Bachelor Links
Mt Bachelor Lodging
Short Shuttle