Resort Information
Lodging Map
Photos
Northstar Ski Resort
Northstar, California
Northstar Lodging Map for Hotels and Condos
Northstar Photos and Pics
Featured Northstar Lodging: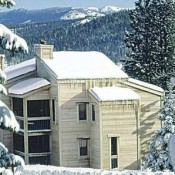 Northstar Resort at a Glance
One of the finest year-round mountain resorts in North America. Northstar California is easy to get to, located in Tahoe only 35 minutes from Reno International airport and about two hours from the Sacramento Airport. At the base of the resort, a new village was developed that includes deluxe lodging, restaurants/shops, ice rink, and more.
If you are planning on flying into Sacramento, please note that the car rental agencies do not provide snow tires or chains with your rental.
The Northstar Mountain
Northstar offers 95+ trails to choose from, spreading over 3,170 acres. Average annual snowfall is 350 inches a year. Intermediate skier can enjoy groomed blues from the top of the summit while those looking for more challenging terrain could spend all day on the backside or race over to Lookout Mountain. And if you are looking for a little more adrenaline rush Northstar offers 7 different terrain parks for all abilities levels.

The base elevation at Northstar is 6,330 feet, with a vertical of 2,280 feet. The longest run at Northstar is 1.3 miles. Unlike many other Tahoe resorts, Northstar offers First Tracks every Saturday morning for skiers that are level 6+ and ages 13+. Comments about the mountain range from "great family resort...Village is awesome for non-skiers...a lot of groomers..."
Northstar Lodging: Condos and Hotels
The Northstar base village is booming with life! It features a variety of shopping, an outdoor skating rink, complimentary s'mores, cafes, and restaurants for every taste bud. You can end your day with style by catching a movie in the theater, listening to live music by the fire pits or going out for specialty cocktails and pub fare. When staying in Northstar you can choose from luxury mountain homes, condominiums, hotel rooms, lofts or studios. And if you are looking for more entertainment head 6 miles down the road to find downtown Truckee. In the historic rustic town you can find everything from fine dining, shops, art galleries, and bars. Locals say, "You'll come for the adventure, and stay for the ambience!"
Resort Maps
More Northstar Links
This map details the location of popular Northstar lodging options. Accommodations are numbered on the map, which when clicked will display a brief description of the property. The list of these lodges on the right side-bar will also display the property, it's rating, and re-size the map centering on that property. You may also click on "more information" which will take you to a page devoted to that specific property choice and ski package options. Here you will find the property amenities, lodging photos, a map of the property, and chairlift location. You may also display nearby restaurants, bars, and grocery stores by clicking the sidebar to the right of the Northstar map.
All lodging options are color coded- Blue, Green, Purple, and in some cases Red. Blue indicates a ski-in property. Please note that some of these are ski-in/ski-out, but can also be walk-out or shuttle-out. Green markers suggest the lodging is within walking distance of a Northstar chairlift. Purple tabs are typically a short shuttle ride from lift access. Lastly, Red indicates that a car is recommended.
The lodging classification of ski-in/ski-out or within walking distance varies amongst users, terrain and snow conditions. It is best to either zoom in on the lodging map to make your own determination or call our reservation office for more details regarding the ski access.
More Northstar Links
Northstar Links
Northstar Lodging
Short Shuttle
Ski School
(click to center map)
Northstar Links