Resort Information
Lodging Map
Photos
Red Mountain Resort Ski Resort
Red Mountain Resort, British Columbia
Red Mountain Resort Lodging Map for Hotels and Condos
Red Mountain Resort Photos and Pics
Featured Red Mountain Resort Lodging: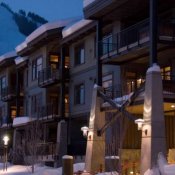 Red Mountain Resort
Red Mountain is located only six miles from the Canadian/US Border and a 2.5 hour drive from Spokane International Airport, along the famous "Powder highway." Red visitors can access 4,200 acres of pristine skiing and can choose from 88 different runs that spread across two mountains featuring everything from wide-open groomers to steep glades. For 2013-2014, the resort has added nearly 1,000 acres of mostly intermediate terrain on Grey Mountain, a spot locals have hiked for years. With 295 inches of annual snowfall, in bound cat-skiing, the friendliest locals around, and fresh tracks that you don't have to fight for makes this an ideal ski destination.
The Town of Rossland:
Rossland is a real town full of real people doing real things. The authentic small town culture is most obvious in Rossland's funky shops, unique restaurants and great entertainment options. When a local you just met on the chair invites you into his secret tree run before having you over for dinner, then you'll truly know you're someplace special.
Resort Maps
More Red Mountain Resort Links
This map details the location of popular Red Mountain Resort lodging options. Accommodations are numbered on the map, which when clicked will display a brief description of the property. The list of these lodges on the right side-bar will also display the property, it's rating, and re-size the map centering on that property. You may also click on "more information" which will take you to a page devoted to that specific property choice and ski package options. Here you will find the property amenities, lodging photos, a map of the property, and chairlift location. You may also display nearby restaurants, bars, and grocery stores by clicking the sidebar to the right of the Red Mountain Resort map.
All lodging options are color coded- Blue, Green, Purple, and in some cases Red. Blue indicates a ski-in property. Please note that some of these are ski-in/ski-out, but can also be walk-out or shuttle-out. Green markers suggest the lodging is within walking distance of a Red Mountain Resort chairlift. Purple tabs are typically a short shuttle ride from lift access. Lastly, Red indicates that a car is recommended.
The lodging classification of ski-in/ski-out or within walking distance varies amongst users, terrain and snow conditions. It is best to either zoom in on the lodging map to make your own determination or call our reservation office for more details regarding the ski access.
More Red Mountain Resort Links
Red Mountain Resort Links
Red Mountain Resort Lodging
Ski-In/Ski-Out
Ski-in/Walk-out
Red Mountain Resort Links