Resort Information
Lodging Map
Photos
Steamboat Ski Resort
Steamboat, Colorado
Steamboat Lodging Map for Hotels and Condos
Steamboat Photos and Pics
Featured Steamboat Lodging: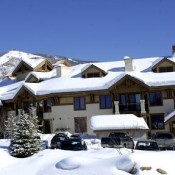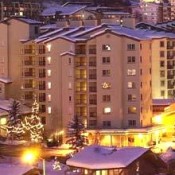 Introduction to Steamboat Ski Resort
One of the most popular resorts in the United States, Steamboat has been dubbed "Ski Town USA" because it is home to so many Olympic ski athletes. Olympic hopefuls from around the country still train at Howelsen Hill which is managed by the City of Steamboat Springs. The draw of this ski resort is due to the world-renowned tree skiing found on its massive mountain, the casual yet festive atmosphere of the people in Steamboat, and the world famous "Champagne Powder".
The Steamboat Mountain
Located 22 miles east of Hayden (HDN), 95 miles north of Eagle (EGE) and 180 miles northwest of Denver, Steamboat Springs is actually a complete mountain range comprised of six peaks. Steamboat offers nearly 3,000 acres of ski terrain from expansive mogul areas, wide-open cruisers and exciting glades- all covered in Steamboat's legendary Champagne Powder® snow. Steamboat is also home to the longest superpipe in North America, at an amazing 650 feet long, 50 feet wide, and 15 feet high.
The Town of Steamboat Springs
Steamboat is a cattle town with a long, rich history and an authentic western flair. There are really two towns here today- a village at the base area of the resort, and the town of Steamboat Springs itself. Both offer an array of dining and nightlife options, and a little shopping as well. But most notable is the simple, genuine friendliness and relaxed, down-home atmosphere that will make you feel welcome during your ski vacation.
Steamboat Lodging: Condos and Hotels
Steamboat Ski Resort has a abundant supply of lodging opportunities. Most of the lodging is spread out over the hillside, at the base of the ski resort, in the Town of Steamboat or about a mile away from the base area there are pockets of lodging along HWY 40. Steamboat offers some of the best-priced ski-in/ski-out lodging, though there are numerous condominium complexes within walking-distance or a short shuttle ride as well.
Resort Maps
Steamboat Video
A brief introduction to skiing and snowboarding at Steamboat, Colorado
More Steamboat Links
This map details the location of popular Steamboat lodging options. Accommodations are numbered on the map, which when clicked will display a brief description of the property. The list of these lodges on the right side-bar will also display the property, it's rating, and re-size the map centering on that property. You may also click on "more information" which will take you to a page devoted to that specific property choice and ski package options. Here you will find the property amenities, lodging photos, a map of the property, and chairlift location. You may also display nearby restaurants, bars, and grocery stores by clicking the sidebar to the right of the Steamboat map.
All lodging options are color coded- Blue, Green, Purple, and in some cases Red. Blue indicates a ski-in property. Please note that some of these are ski-in/ski-out, but can also be walk-out or shuttle-out. Green markers suggest the lodging is within walking distance of a Steamboat chairlift. Purple tabs are typically a short shuttle ride from lift access. Lastly, Red indicates that a car is recommended.
The lodging classification of ski-in/ski-out or within walking distance varies amongst users, terrain and snow conditions. It is best to either zoom in on the lodging map to make your own determination or call our reservation office for more details regarding the ski access.
More Steamboat Links
Steamboat Links
Steamboat Lodging
Ski-In/Ski-Out
Ski-in/Walk-out
Walking Distance
Short Shuttle
Ski School
(click to center map)
1
The Rockies Condominiums
13
Champagne Lodge at Trappeurs Crossing
14
Timberline at Trappeurs Crossing
21
Emerald Lodge at Trappeurs Crossing
30
Antlers At Christie Base
36
Trails at Storm Meadows
37
Storm Meadows East Slopeside
39
The Spa at Storm Meadows
40
Storm Meadow Townhomes
Steamboat Links