Resort Information
Lodging Map
Photos
Vail Ski Resort
Vail, Colorado
Vail Lodging Map for Hotels and Condos
Vail Photos and Pics
Featured Vail Lodging: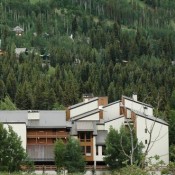 Introduction to Vail Resort
Vail is the largest skiing mountain in North America. It remains one of the top ski destinations in the U.S. for both domestic and international skiers. There are many, many reasons for the popularity of Vail. The short list might include easy flights into Vail/Eagle or the Denver Airport, airport to resort shuttle time of 30 minutes to 2.25 hours, acres and acres of fabulous skiing on the front side of Vail Mountain, the Back Bowls, intra-resort shuttles every 4-5 minutes, over 118 restaurants, light dry snow, 100's of lodging options, well-renowned varied nightlife....
Early-bird "slopers" and night-owl clubbers alike will find a place in Vail.
Vail Mountain
Located approximately 105 miles west of Denver, Colorado and 20 miles east of Eagle County airport (EGE), Vail Ski Resort offers an unbelievable 5,289 acres ski terrain. There are 3 different sections to this mountain: the front side, with a huge variety of runs for all ski levels; the legendary Back Bowl area, with nearly 3,000 acres of open powder bowls stretching 6 miles wide; and the newest ski area- Blue Sky Basin- tucked away two miles into the wilderness with a plethora of naturally gladed terrain. With the largest network of express quad chairlifts in the world, you are assured maximum time exploring the extensive slopes of this amazing resort- where you could spend a week and probably never ski the same run twice.
Vail Village
Vail was originally designed with the sole purpose of being a ski resort. Opened in 1962, the core of Vail was a single mock-Tyrolean village. Today, this village still functions as the main downtown area of Vail; however, as the resort has expanded in popularity over the years, Vail itself has also grown to include a second core area, called Lionshead. While maintaining the resort's quaint charming atmosphere, these two areas manage to offer hundreds of shopping, dining and entertainment options, including fun and upscale pizza joints, classy restaurants with extensive wine lists, and a gamut of nightlife hubs, from quiet piano bars to happening disco and live-band establishments.
Vail Lodging: Condos and Hotels
There are two central areas for lodging in Vail: Vail Village, and the Lionshead neighborhood. Vail Village is mostly comprised of hotels, while the majority of the Lionshead lodging is condominiums. Both offer ski-in/ski-out or slope-side accommodations and a variety of lodging price ranges, though Vail Village is more at the heart of things with nightlife and après ski options. More economical alternatives to both can be found in either East or West Vail, which are located across the highway. Lodging here requires a longer shuttle ride to both the skiing and the après ski activities, but nevertheless they are not very far away and offer a more economic option.
Resort Maps
More Vail Links
This map details the location of popular Vail lodging options. Accommodations are numbered on the map, which when clicked will display a brief description of the property. The list of these lodges on the right side-bar will also display the property, it's rating, and re-size the map centering on that property. You may also click on "more information" which will take you to a page devoted to that specific property choice and ski package options. Here you will find the property amenities, lodging photos, a map of the property, and chairlift location. You may also display nearby restaurants, bars, and grocery stores by clicking the sidebar to the right of the Vail map.
All lodging options are color coded- Blue, Green, Purple, and in some cases Red. Blue indicates a ski-in property. Please note that some of these are ski-in/ski-out, but can also be walk-out or shuttle-out. Green markers suggest the lodging is within walking distance of a Vail chairlift. Purple tabs are typically a short shuttle ride from lift access. Lastly, Red indicates that a car is recommended.
The lodging classification of ski-in/ski-out or within walking distance varies amongst users, terrain and snow conditions. It is best to either zoom in on the lodging map to make your own determination or call our reservation office for more details regarding the ski access.
More Vail Links
Vail Links
Vail Lodging
Ski-In/Ski-Out
Walking Distance
Short Shuttle
3
The Ritz Carlton Residences
12
Arrabelle at Vail Square
Vail Links