Resort Information
Lodging Map
Photos
Whistler Blackcomb Ski Resort
Whistler Blackcomb, British Columbia
Whistler Blackcomb Lodging Map for Hotels and Condos
Whistler Blackcomb Photos and Pics
Featured Whistler Blackcomb Lodging: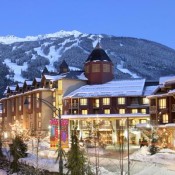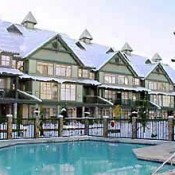 Whistler Resort
Nothing short of massive could be used to describe Whistler Blackcomb. With over 7,000 acres of terrain, it is hands-down the largest resort on the continent. And- thanks to a favorable Canadian exchange rate- you can enjoy this awesome, action-packed, fun-filled ski destination for a more-than-reasonable rate.
Whistler Blackcomb Mountains
Located approximately 72 miles north of Vancouver, Whistler Blackcomb boasts two enormous mountains and a whopping 7,071 acres of ski terrain. Each of these mountains offers a drop of nearly one vertical mile, and more than 200 amazing trails span their combined slopes. This is the only place in North America where you can ski on a glacier- and there are THREE to choose from! Thirty lifts compose one of the most advanced systems in the industry, allowing you explore this ski resort more efficiently. And despite the low base altitude, Whistler receives an excess of 30 annual feet of snow- so you will breathe easier while tackling a mountain of amazing powder.
Whistler Village
Modeled after a European ski community, Whistler ranks as one of the finest ski towns on the continent. From candle-lit bistros to pulse-pounding clubs to world-class shopping, Whistler Village has it. The village was designed to be centralized around the mountain, so as a result, most everything is at least walking distance to the ski slopes and the resort center. And no matter what you decide to do, the infamously friendly Canadian hospitality will be there to greet you.
Whistler Lodging: Condos and Hotels
There is an abundance of lodging within the Blackcomb and Whistler villages, as well as in a third, more remote area at the south part of the mountain. All three options offer ski-in/ski-out and walk-to-the-lift lodging. However, Whistler village is the best choice if you are looking to be at the center of the dining and nightlife alternatives.
Resort Maps
Whistler Blackcomb Video
A brief introduction to skiing and snowboarding at Whistler Blackcomb, British Columbia
More Whistler Blackcomb Links
This map details the location of popular Whistler Blackcomb lodging options. Accommodations are numbered on the map, which when clicked will display a brief description of the property. The list of these lodges on the right side-bar will also display the property, it's rating, and re-size the map centering on that property. You may also click on "more information" which will take you to a page devoted to that specific property choice and ski package options. Here you will find the property amenities, lodging photos, a map of the property, and chairlift location. You may also display nearby restaurants, bars, and grocery stores by clicking the sidebar to the right of the Whistler Blackcomb map.
All lodging options are color coded- Blue, Green, Purple, and in some cases Red. Blue indicates a ski-in property. Please note that some of these are ski-in/ski-out, but can also be walk-out or shuttle-out. Green markers suggest the lodging is within walking distance of a Whistler Blackcomb chairlift. Purple tabs are typically a short shuttle ride from lift access. Lastly, Red indicates that a car is recommended.
The lodging classification of ski-in/ski-out or within walking distance varies amongst users, terrain and snow conditions. It is best to either zoom in on the lodging map to make your own determination or call our reservation office for more details regarding the ski access.
More Whistler Blackcomb Links
Whistler Blackcomb Links
Whistler Blackcomb Lodging
Ski-In/Ski-Out
Walking Distance
Short Shuttle
8
Delta Whistler Village Suites
15
Whistler Village Inn and Suite
Whistler Blackcomb Links