To receive a customized proposal for your group, please call our office at 800-876-8551 or fill out the online request form on the right.
Banff and Lake Louise Group Lodging
Visiting Banff you will see one of the highest elevation communities in Canada, a Canadian national park, and three separate ski areas all in the same location. Because of its scenery Banff is one of the most popular tourist destinations in the country. All three ski areas lie within a 45 minute drive from town.
Featured Group Lodging
Banff International
Short Shuttle
Banff International prides themselves on their warm hospitality and exceptional comfort making your stay a home away from home. This hotel is within walking distance of restaurants, shops, and activities in downtown.
Details (new window)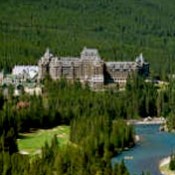 Fairmont Banff Springs
Short Shuttle
This Scottish-style castle in the Rockies has been providing legendary hospitality to guest for 125 years. the hotel offers a wealth of exciting activities year-round. Guest can choose from Fairmont Deluxe or the Fairmont room with views of either the Mountain or Bow Valley.
Details (new window)
Banff and Lake Louise Group Airfare
Many travelers come from Vancouver to Calgary and access the park with only a 90 minute drive to the Resort. The Banff Airporter Inc and Brewster Banff Airport Express provide comfortable and affordable transportation. Sports America maintains special 'bulk' airfare contracts, as well as the entire range of standard retail fares to ensure the lowest pricing for your group.

Banff and Lake Louise Group Ground Transportation
Banff National Park is located 90 minutes west of Calgary, Alberta, along the TransCanada Highway. If you are coming from Vancouver you can also use the TransCanada Highway. Vancouver International Airport and Calgary Airport offer charter buses, shuttles and rail or car rentals.

Banff and Lake Louise Group Activities
In town you will find an extensive amount of shops, restaurants, and nightlife.
Banff also has an extensive amount of summer activities. Alpine hiking, fishing, helicopter tours, and gondola rides are some of the options.
Request Banff and Lake Louise Group Quote
Banff and Lake Louise Links