To receive a customized proposal for your group, please call our office at 800-876-8551 or fill out the online request form on the right.
Featured Group Lodging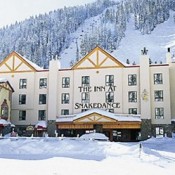 Snakedance Lodge and Spa
Ski-In/Ski-Out
This luxury resort will offer you all the upper class amenities' and facilities that groups will love. Snakedance is located slope-side, less than 10 yards from lift one quad which is the main access point for the
Details (new window)
Taos Group Airfare
Visitors can fly into Santa Fe and then drive 1 hour and 15 minutes to Toas Ski Valley; or fly into Albuquerque with 2 hour and 15 minute drive to the resort. During the winter travelers can make a reservation and hop onto a daily shuttle that runs between the airport and the slopes. Snakedance lodge offers courtesy van to and from local and major airlines in the area.

Sports America maintains special 'bulk' airfare contracts, as well as the entire range of standard retail fares to ensure the lowest pricing for your group.
Taos Group Ground Transportation
Groups can rent a charter bus to bring them to their accommodations. While staying at Taos Ski Valley visitors can use the public transportation between the Town of Toas and Toas Ski Valley for a $1 each way.
Request Taos Group Quote